D-LINK(dlink) DIR-505 WIFI ROUTER RANGE EXTENDER+HOTSPOT+REPEATER+USB+mobile charger
Jump to:
PRODUCT DETAILS: D-LINK(dlink) DIR-505 WIFI ROUTER RANGE EXTENDER+HOTSPOT+REPEATER+USB+mobile charger
Product Description
A BRAND NEW D-LINK DIR-505 WIFI PORTABLE ROUTER/ REPEATER/ EXTENDER/ WIFI HOTSPOT/MOBILE CHARGER
WITH 2 YEARS MANUFACTURERS WARRANTY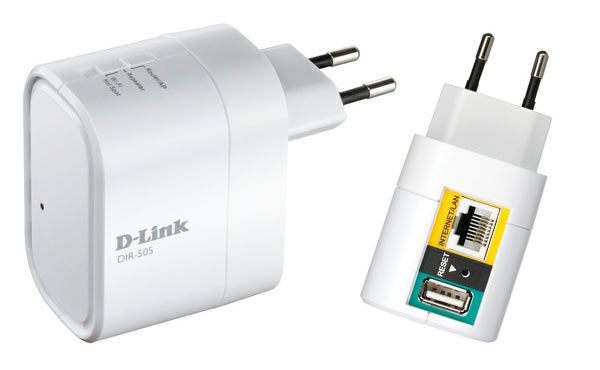 Description
The DIR-505
All-in-one Mobile Companion is a portable
plug-in router that lets you share your
Internet connection and your files all from
a compact device that fits in your pocket.
Tiny yet versatile, it gives you all the
functionality of a router, access point,
wireless repeater, and network storage
drive in a device that fits in the palm of
your hand.
WIFI REPEATER/ BOOSTER/ RANGE EXTENDER
What does it do?
Do you always think that you are not getting good signals on your wifi router or your internet is not working fast as your original speed is , here is the solution
Repeaters remove the unwanted noise in an incoming signal. Unlike an analog signal, the original digital signal, even if weak or distorted, can be clearly perceived and restored.
When you first broadcast a wireless signal it is very strong. As it continues to travel away from its source, the signal strength begins to degrade. The farther the signal travels, the weaker it becomes — until finally it loses its integrity. This is known as attenuation.

A wireless repeater picks up the weak signal, regenerates it and then rebroadcasts it, thus extending the range of your network. This regeneration makes the signal stronger, making it possible to overcome some of the interference you might be encountering.

This way you can use the signal from a much larger distance than before.
Where you should put it ??
For example you are on the second floor of your house and your router is on the first floor you can put the repeater in the stair case or any appropriate place which is in between so that the signal from your router can be amplified , so your internet speed increases and you will feel as if your are sitting on the same floor as the router is Problem Solved .
Features
· Complying with the IEEE 802.11 b/g, compatible with IEEE 802.11n products
· Up to 150 Mbps data rate
· Support Router/Access Point, Repeater and Wi-Fi HotSpot operation modes
· 1 x Fast Ethernet port
· 1 USB for media sharing
· WPS button design for easy & secure setup
· D-Link One-Touch AP configuration
· SharePort™ Mobile (only support in Router and Wi-Fi HotSpot modes) and Quick Router Setup Mobile iOS APP support (only support for Router mode)
· SharePort™ Web Access (only support in Router and Wi-Fi HotSpot modes)
SPECIFICATIONS

Device Interfaces

WAN/LAN 10/100 Ethernet port

WPS button

USB 2.0 port

Reset button

802.11n/g/b wireless

LEDs

LEDs

Status/WPS

Standards

IEEE 802.11g/b, compatible with 802.11n devices

IEEE 802.3

IEEE 802.3u

USB 2.0

Wireless Modes

Router Mode

Access Point Mode

Repeater Mode

Wi-Fi Hot Spot Mode

Wireless Frequency Range

2.4 GHz to 2.4835 GHz

Antennas

Internal antenna

Security

Wi-Fi Protected Access (WPA/WPA2)

WEP 64/128-bit encryption

WPS (PBC/PIN)

Advanced Firewall Features

Network Address Translation (NAT)

Stateful Packet Inspection (SPI)

DMZ support

MAC address filtering

Website filtering

Advanced Features

Quick Router Setup app support (iOS, Android4)

SharePort™ Mobile app support (iOS, Android)

DLNA Media Server

Guest Zone support5

UPnP support

Wi-Fi WMM Quality of Service (QoS)
http://www.youtube.com/watch?v=t97gzX4qA_U
Customer Reviews
Average Rating

Best Rated Reviews

Most Useful Reviews
Ravi
13 Aug 2013, 10:17 PM
"Catches signal as weak as anything grater than 6%"
Was this review helpful to you?
Seller Information
Detailed Merchant Rating
Overall Rating: 3.50
Have a Question for the Merchant?

20% of customer query response is within 48 hours

Response Rate: 40.00 %(

?

)
Shipping Performance

53% of order is shipped within 48 hours



Fulfillment Rate: 77 % (

?

)