We are a team of highly energized professionals with a world-class background and experience of working with some of the largest and best, Internet, technology and retail/fashion companies both in India and USA. Each one of us is equally passionate about providing the best online shopping experience to our customers, building the best online E-Commerce technologies and sourcing your favorite merchants and brands.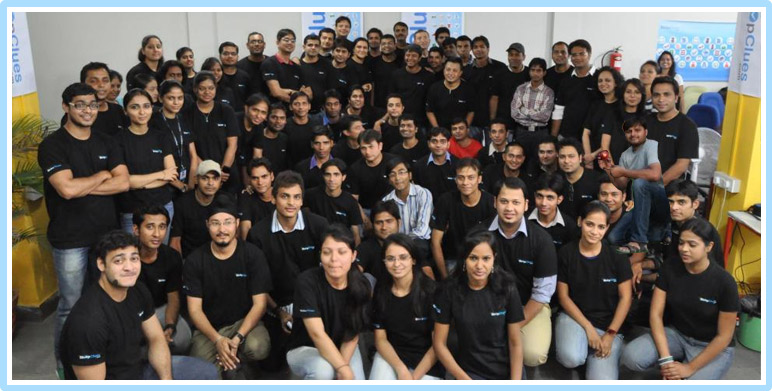 Sanjay Sethi, CEO & Co-Founder
As the Co-Founder of ShopClues, Sanjay is a product visionary and passionately believes in creating ShopClues.com to delight its customers. He has enjoyed a successful career of over 20 years in Internet product development, including ecommerce marketplaces, online payments and trade logistics. Prior to assuming the company's leadership, Sanjay was Vice President -Products and was responsible for providing the products and processes needed to create and run an efficient marketplace at ShopClues.com.
Before he co-founded ShopClues, Sanjay was Global Product Head for Shipping & Logistics, Payments & Billing at eBay, at it's headquarter in the Silicon Valley. Prior to eBay some of companies he worked with were TradeBeam, a global trade management startup based in San Francisco, Great America Insurance in Cincinnati, Texas Department of Criminal Justice, Texas etc. Before moving to US, Sanjay worked for 5 years in India with HCL Perot Systems, IIS Infotech and Steel Authority of India Limited. He is a graduate in technology from Indian Institute of Technology - Delhi and Indian Institute of Technology - Banaras Hindu University. He is a voracious listener of audiobooks and in his free time is a student of AstroPhysics. He lives in Gurgaon with his family.
Sanjay's Favourite Quote
" Mastery attracts precisely because mastery eludes "
Sanjay's Recent Purchase
@ ShopClues
Sanjay's Wishlist
@ ShopClues
Radhika Aggarwal, Corporate VP - Marketing & Merchandising, & Co-Founder
For Radhika, fashion and retail is both a passion and profession. As the VP Marketing & Merchandising, Radhika brings 14 years of retail, fashion, lifestyle and advertising background both off-line and online.
Before joining ShopClues.com, Radhika successfully ran a fashion blog based out of Silicon Valley with readership in 53 different countries. Radhika has also worked with Nordstrom at its corporate headquarters in strategy planning in Seattle and with Goldman Sachs in its Wealth Management group in New York and Menlo Park, USA. She started her career with Lintas and ran her own integrated marketing communication firm.
Radhika has an MBA from Washington University in St. Louis, Masters in Advertising and Public Relations Management from Devi Ahilya University Indore, and Bachelors in Food & Nutrition from MSU Baroda. She lives in Gurgaon with her family, and is an avid reader and fashionista.
Radhika's Favourite Quote
" Never doubt that a small group of thoughtful committed people can change the world. Indeed it is the only thing that ever has. "
Radhika's Recent Purchase
@ ShopClues
Radhika's Wishlist
@ ShopClues
Mrinal Chatterjee, Corporate VP - Technology & Founding Team Member
As the Founding member and VP of Technology, Mrinal brings over 20 years of experience in technology, E-commerce and web applications, in Silicon Valley. He has successfully managed and delivered some of the most complex applications on aggressive schedules and on time. He brings the same discipline to making ShopClues.com the best ecommerce portal in India.
Before joining ShopClues, he was Vice President of Products & Services in Silicon Valley at Contenix Inc. - (a technology services company catering to luxury brands such as MontBlanc, Cartier and many more,) managing all aspect of product development and delivery of services. Prior to Contenix, Mrinal was the founding member of RowNine – high end, flash sales website based in USA. He has also developed complex multi-seller ecommerce platform for ViaLuxe market place, data loss prevention products at Tablus (acquired by EMC/RSA) and CRM applications at Epiphany and Oracle.
Mrinal holds a Masters in Computer Science from Indian Institute of Technology- Mumbai. He lives in Gurgaon with his family and Sparky (his dog, a miniature schnauzer).
Mrinal's Favourite Quote
"Winning isn't everything; it's the only thing"
Mrinal's Recent Purchase
@ ShopClues
Mrinal's Wishlist
@ ShopClues
Devesh Rai G, Corporate VP - Business Development & Founding Team Member
Devesh Rai is responsible for business development and merchant relationships at ShopClues.com. He has more than 15 years of experience in the Media and IT industries across sales and marketing functions. A strong strategist and a flawless executor, Devesh has led successful campaigns in both consumer and enterprise environments across the globe.
Before joining ShopClues.com, Devesh spearheaded the newspaper sales and marketing at MAIL TODAY Newspaper, a joint venture between the India Today Group and Daily Mail of UK. He played an instrumental role in establishing the newspaper as a strong no. 3 in Delhi/NCR in a short span of 2 years. He has also successfully led many image makeover and launch campaigns including repositioning of HT, launch of publications in major metro markets. Prior to this he has worked with HCL Technologies and Headstrong Services, where he established and led the Marketing and Sales Prospecting teams. Devesh started his career in advertising, and continues to feel strongly about building strong corporate relationships and brands.
Devesh is an Economics graduate from the prestigious Hindu College, Delhi University and has an MBA in Marketing and Finance from Indian Institute of Management (IIM), Calcutta. Devesh lives with his mother, wife and two kids in Gurgaon. His passions include photography, outdoor sports and traveling to offbeat places.
Devesh's Favourite Quote
"Success is not final, failure is not fatal: it is the courage to continue that counts. "
Devesh's Recent Purchase
@ ShopClues
Devesh's Wishlist
@ ShopClues
Vishal Sharma, VP - Strategic Initiatives
As Vice President - Strategic Initiatives, Vishal brings over 18 years of experience in marketing and sales in internet and banking/financial services sector. At ShopClues, Vishal works closely with the core team for developing and executing strategic outreach initiatives.
Prior to becoming an integral part of the strategic think tank at ShopClues, Vishal has held various senior positions such as Business Head, IndiaMART.com, Sales & Distribution lead at iTrust Financial Advisors, Sales & Distribution leader for GE Consumer Finance business (where he was recognized as the Best Sales Person of the year), and Sales Leader at Standard Chartered Bank. He is a self-starter and quick learner with a versatile skill set and experience in sales, strategic planning and tactical decision-making. Vishal has strong business acumen, and excellent interpersonal and team-management skills, with a proven track record in building and developing businesses, managing client relations and ensuring business profitability.
He holds a Bachelor's degree from the University of Delhi, MBA from Fore School of Management, Delhi and an Advanced certificate course in Marketing & Management from University of Steubenville, Ohio, USA. A foodie at heart, and an avid traveler he doesn't miss any opportunity to hit the road or the skies! He lives with his loving family which includes a culinary skilled wife, fun loving son and a doting daughter.
Vishal's Favourite Quote
" If your actions inspire others to dream more, learn more, do more and become more, you are a leader. "
Vishal's Wishlist
@ ShopClues
Vishal's Wishlist
@ ShopClues